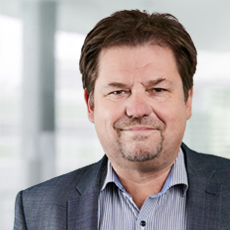 Thomas Schikorra
GERMAN ATTORNEY-AT-LAW, PARTNER
Law studies at the University of Regensburg. With SNB since 1992, partner since 1996.
Vcard
Expertise
Thomas Schikorra has been working exclusively on banking and capital market law as well as insolvency law since 1992 and has headed the practice since 2000. He relies on extensive experience in consulting financial service providers and consortiums of banks on all issues concerning banking and capital markets as well as cases of crisis and insolvency of borrowers and drafts contracts to be entered into in this connection. A special focus of his activity lies on loan collateral law. In this connection banks and financial service providers entrust him in special cases with the drafting of collateralisation contracts or their legal review and he accompanies the setting up of collateral pools. Moreover, he advised banks in several cases on failed lending to property development companies and represented them vis a vis buyers.
In addition, Thomas Schikorra has provided legal support for companies in crisis with a view to their rehabilitation and restructuring.
Thomas Schikorra relies on extensive experience in representation in court. He is regularly contracted by banks and financial service providers in litigation as plaintiff or defendant. A special focus lies on mandates from banks and financial service providers which are confronted with insolvency transaction avoidances. In several mass proceedings Thomas Schikorra was commissioned by banks, financial service providers and partly also by real estate companies in view of advisory services and the conduct of lawsuits, namely in the event of failed real estate financing, investments in structured bonds and in closed-end funds.
Assistance/Location
MS. SANMANN

Telephone +49 (0)40 - 36 97 96-12 / Telefax +49 (0)40 - 36 20 88
Email t.schikorra@snb-law.de
Chilehaus / Entrance C / Burchardstraße 13 / 20095 Hamburg
Memberships
Bankrechtliche Vereinigung e.V.
Skills
BANKING
Banking and capital market law Collateralisation of credits Insolvency law Litigation