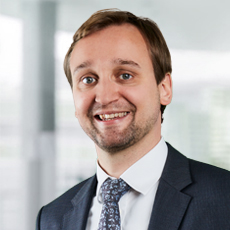 ANDREAS BREMER
GERMAN ATTORNEY-AT-LAW, COUNSEL
Lawyer since 2009. With Becker Büttner Held in Munich until 2017. With SNB since 2017.
Vcard
Expertise
Mr. Bremer has been advising energy supply companies nationwide for many years in the entire area of the energy industry, from generation and (regulated) grid operation to the trading and distribution of energy in the areas of electricity, gas and long-distance heating. In addition, Mr Bremer also advises telecommunications companies on the establishment and operation of broadband networks and on competition law issues.
In the context of the energy transition, Mr Bremer currently advises energy supply companies on the planning and implementation of infrastructure projects as well as on new innovative business models, which deal, inter alia, with the coupling of the energy, housing, industry and mobility sectors.
Mr.Bremer advises his clients out of court and also represents them before courts and authorities throughout Germany.
Assistance/Location
MS. SCHÄFER

Telephone +49 (0)40 - 36 97 96-14 / Telefax +49 (0)40 - 36 20 88
Email a.bremer@snb-law.de
Chilehaus / Entrance C / Burchardstraße 13 / 20095 Hamburg
Publications
2015 EEG-umlagefreie Eigenversorgung – Praxisrelevante Fragen bei Modernisierung und Ersetzung von Bestandsanlagen, ZNER 2015, 16, zusammen mit Rechtsanwalt Peter Thalhauser
2014 Durchschnittspreisverordnung: Benachteiligung selbständiger Unternehmensteile bei erstmaliger BesAR-Antragstellung?, VIK-Mitteilung 3-2016, 14, zusammen mit Rechtsanwalt Peter Meisenbacher
Skills
ENERGY COMMERCIAL- AND CIVIL-LAW
Energy industry law cartel, public procurement and subsidy law energy supply (production, distribution and sales) energy-intensive industries e-mobility