corporate-law
We are providing you with comprehensive advice on all corporate law issues, including cross-border constellations. Our advisory portfolio includes, inter alia, restructuring and transformation measures, drafting of articles of association and shareholders' agreements, representing clients in shareholder disputes, capital measures and company formations or greenfield investments.
Mergers and Acquisitions (M&A)
As part of our expertise in corporate law, we also advise our clients regularly on different (international) M&A transactions. We are acitve both for purchasers and sellers. Depending on the main focus of the transaction, we put together a powerful team of experts and accompany you throughout all phases of the transaction.
We advise and accompany investments in target companies of different legal forms, as a minority and as a majority investment, joint venture or private equity investment.
asian-experience
We have special experience in transactions involving Asian (in particular Chinese) investors. These transactions are characterised by a more extensive need for co-ordination and communication as well as complex decision-making and authorisation processes. You can leverage our many years of Asian experience.
Regulatory
Companies operating in an international context in particular have to keep track of and comply with a number of regulatory requirements. We have many years of expertise in dealing with the relevant requirements, be it in fulfilling reporting obligations to the transparency register, advising on business immigration issues (applying for residence permits for foreign specialists and executives) or licensing requirements for the commencement of special corporate activities or the import and export of goods that are subject to special licensing requirements (e.g. in the area of food, tobacco or waste law).
Cross-Border Transactions
With the upcoming implementation of the European Transformation Directive, cross-border transformation transactions will receive a secure legal framework throughout the EU. In future, the cross-border move of the registered office, mergers or demergers will be subject to a detailed regulated procedure. SNB has already advised a large number of clients on cross-border transformation transactions. Our clients benefit from our strong network of European partner law firms, with whom we have been working hand in hand in a spirit of trust for many years.
Digitalisation
The digitalisation of law has long since affected also corporate law. SNB took up this development years ago and integrated a large number of corporate law processes into a digital workflow, which enables us to prepare a wide variety of draft contracts in a time-efficient and at the same time tailor made manner. With the implementation of the EU Digitalisation Directive, attendance requirements at notarial authentications, certifications and shareholders' meetings will gradually become possible remotely in the future. We will be happy to inform you about how you or your company can benefit from this.
Liability of Managing Directors and Executives
One focus of our corporate law expertise is advising on liability and/or termination proceedings involving (former) managing directors and executives. We advise companies on the preparation and enforcement of such claims as well as directors and executives on the defence of claims and dismissals against them. The relevant disputes are usually characterised by a high degree of complexity (e.g. forensic due diligence, involvement of D&O insurers) and often also have references to labour and insolvency law.
Team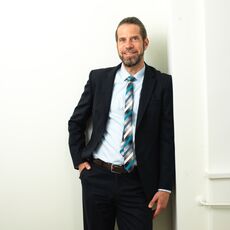 DR. MARK-ALEXANDER HUTH
Hamburg
German Attorney-at-Law, Partner
Specialist Lawyer for Commercial and Company Law