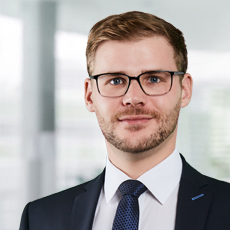 BASTIAN GRÄTZ
GERMAN ATTORNEY-AT-LAW, ASSOCIATE
With SNB since 2018 as German Attorney-at-Law.
Vcard
Expertise
Bastian Grätz is part of the practice group Energy & Infrastructure. He is focused on advising national and international clients in all matters of intellectual property law as well as data protection and e-commerce law.
His expertise includes, among other legal services, the judicial and extrajudicial assertion and defense of claims under unfair competition law, advice on complex issues in the processing of personal data, the management of trademark portfolios, as well as support in the conception and design of websites and Internet platforms.
Another focus of Mr. Grätz is the development and negotiation of sales and purchase contracts and general terms and conditions as well as the representation of his clients in and out of court in disputes with customers, contractors, suppliers and freight forwarders. In addition, Mr. Grätz advises his clients in all matters of general civil and commercial law.
Assistance/Location
MS. SANMANN

Telephone +49 (0)40 - 36 97 96-32 / Telefax +49 (0)40 - 36 20 88
Email b.graetz@snb-law.de
Chilehaus / Eingang C / Burchardstraße 13 / 20095 Hamburg
Skills
CORPORATE IP IT
Industrial property rights and copyrights, information technology law, data privacy and information security, e-commerce, press and right to free speech, standard terms and conditions and contract structuring.