china-desk
As far as the legal counselling of Chinese companies in Germany is concerned, SNB has been one of the first German law firms to operate in this field since the mid 1980s. Many Chinese investors and internationally operating Chinese companies contact us if they need legal advice in Germany.
negotiation-tactics
Our sound knowledge of the particularities of the Chinese culture and negotiation tactics turns us, moreover, sought-after advisers for German mid-sized companies with business activities in China and/or business relationships with Chinese companies, also and in particular for more complex transactions under company law or co-operations.
advisory-services
We offer our Chinese clients, apart from the entire range of advisory services from our German practices (in particular in the field of commercial and company law, contract drafting as well as IT law and industrial property rights), mainly investment advice in the field of company acquisitions, greenfield investments and company locations. Consulting on the drafting of real estate, lease and employment contracts as well as the representation of Chinese clients in extra-judicial and judicial disputes round off our range of advisory services.
network
German clients with business activities in China and/or with Chinese companies are advised by us primarily on the selling of companies, the negotiation of joint venture contracts, co-operation, distribution and framework agreements as well as the protection of industrial property rights in Germany and abroad. As far as necessary in individual cases, we can rely on our international network of lawyers and tax consultants (IAG) as well as many other contacts of our network also in other European and Asian countries with a view to quick and effective help.
Team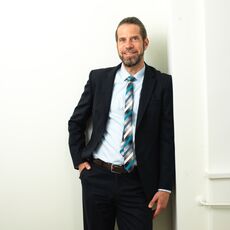 DR. MARK-ALEXANDER HUTH
Hamburg
German Attorney-at-Law, Partner
Specialist Lawyer for Commercial and Company Law