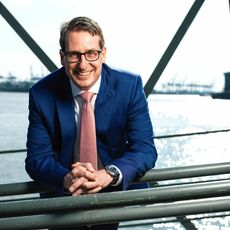 NILS BRÄUNINGER, LL.M. (Kapstadt)
GERMAN ATTORNEY-AT-LAW, PARTNER
Specialist Lawyer for Banking and Capital Market Law
Law studies at the University of Hamburg. One-year Master of Law programme in Cape Town, South Africa. During the Legal clerkship three-month station at the German Embassy with the United Nations, New York. Since 2004 Rechtsanwalt at SNB, partner since 2010. Since 2009 specialist lawyer for banking and capital market law.
Vcard
Expertise
Mr Bräuninger works for banks and financial service providers in all areas of the banking and capital market law. He accompanies credit institutions and consortiums of banks in structured financing, in particular for the drafting of loan and collateral pool agreements. Moreover, he conducts court proceedings in securities law for banks, including in mass proceedings. Fund management companies are likewise supported when warding off claims.
Another field of activity is consulting and court representation of banks and other creditors in insolvency law. A focal point is the avoidance of claims for rescission. In addition, he works for (mid-sized) companies in the field of reorganisation and within the framework of issues under insolvency law.
Mr Bräuninger is appointed as administrative receiver.
Assistance/Location
MS. REGNER

Telephone +49 (0)40 - 36 97 96-43 / Telefax +49 (0)40 - 36 20 88
Email n.braeuninger@snb-law.de
Chilehaus / Entrance C / Burchardstraße 13 / 20095 Hamburg
Memberships
Arbeitsgemeinschaft für Bank- und Kapitalmarktrecht des Deutschen Anwaltsvereins
Bankrechtliche Vereinigung e.V.
Publications
2004 "Immobilienanlagen, Darlehensvollmachten und das Rechtsberatungsgesetz" in WM 2004, 2294 ff., Nils Bräuninger, Dr. Bernd Peters
Skills
BANKING
Banking and capital market law Insolvency law Reorganisation Litigation Real property law Administrative receivership