DR. MARK-ALEXANDER HUTH
German Attorney-at-Law, Partner, Specialist Lawyer for Commercial and Company Law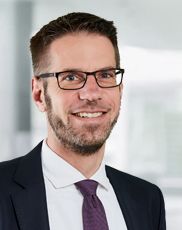 Studies in Osnabrück and Qingdao (China). 2003 to 2004 Scientific assistant at the German-Chines Institute for Legal Science at the University of Göttingen. Legal clerkship in Hamburg and Shanghai. 2006 PhD with a paper on the law of stock companies. With SNB as German Attorney-at-Law since 2007; as partner since 2012. As a specialist lawyer for commercial and company law, Dr. Mark-Alexander Huth works as a partner in the Corporate practice, where he heads the China Desk. He advises many German and foreign (mainly mid-sized) companies on complex commercial and company law issues (e.g. company acquisitions, restructurings, shareholder disputes, (international) purchasing and sales contracts etc.).
---
SECRETARIAT: Frau Rogge
Telephone +49 (0)40 - 36 97 96-16 / Telefax +49 (0)40 - 36 20 88 / Email m.a.huth@snb-law.de
ADDRESS: Chilehaus / Entrance C / Burchardstraße 13 / 20095 Hamburg

---
ADVISORY FIELDS: Corporate, China Desk, Company Law/M&A, Commercial and Civil Law

---
FOCAL ACTIVITIES: Corporate transactions (M&A), shareholder disputes, (international) contract drafting, arbitration law

---
PARTICULARITIES: Dr. Mark-Alexander Huth is one of a few German arbitrators of the Shanghai International Arbitration Center (SHIAC).

2014
"Mit Geduld zum Ziel", in: M&A China/Deutschland, Heft 3/2014, 50f.
2013
"Die anwaltliche Vertretung in Gesellschafterstreitigkeiten", GmbHR, 2013, 1021ff.
2011
"China and ICSID Arbitration", in: ZChinR 2011, 186ff.
"Voraussetzungen des Zugangs einer Amtsniederlegungserklärung bei der ausländischen Muttergesellschaft", GmbHR 2011, 925ff.
2007
"Grundsätze ordnungsmäßiger Risikoüberwachung", in BB 2007, 2167ff.
2006
"Die Vorstandspflicht zur Risikoüberwachung", 2006
2005
"Ausländer als Geschäftsführer einer GmbH", GmbHR 2005, 1409ff.
German (mother tongue), English, Chinese (basic knowledge)
Deutsch-Chinesische Juristenvereinigung e.V.
Chinesisch-Deutsche Gesellschaft Hamburg e.V.