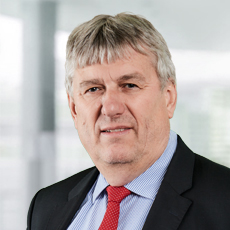 HARTMUT GARZ
GERMAN ATTORNEY-AT-LAW, OF COUNSEL

Law studies at the University of Hamburg. With SNB since 1 July 2013.
Vcard
Expertise
Hartmut Garz was admitted to the bar in Hamburg as German Attorney-at-Law in August 1980. After a first brief activity as a lawyer he worked from 1981 to 30 June 2013 for a leading credit insurer first in the HR department and then from 1991 as in-house lawyer and headed the legal department of the company.
During this time, he accompanied the international development of the company by formations or acquisitions of insurance companies or the setting up of branch establishments in different European and Asian countries. Hartmut Garz has specialist knowledge owing to this activity in general insurance law and in credit insurance law in particular. Apart from the legal knowledge, this also refers to framework conditions in terms of business administration, in particular as far as the development of insurance products is concerned.

As a result of the activity in the insurance industry, he, moreover, has in-depth knowledge in insurance supervision law and compliance issues for insurance companies.

As a result of the integration into an international group, another focal area of activity was group law and group co-determination issues.
His activities included also legal advice for subsidiaries. In this connection Hartmut Garz worked in the field of business information with corresponding knowledge in data privacy law.

Since 30 June 2013 Hartmut Garz retired from his former field of activity for reasons of age at the age of 60 years and joined SNB in order to make available his practical knowledge and experience for clients.
Assistance/Location
MS. SCHÄFER

Telephone +49 (0)40 - 36 97 96-14 / Telefax +49 (0)40 - 36 20 88
Email h.garz@snb-law.de
Chilehaus / Entrance C / Burchardstraße 13 / 20095 Hamburg
Publications
2014 Privatwirtschaftliche Ausfuhrkreditversicherungen, Risiken im Exportgeschäft
Skills
BANKING
Commercial credit insurance insurance law credit insurance law labour and works constitution law