CORINNA RINDFLEISCH
German Attorney-at-Law, Partner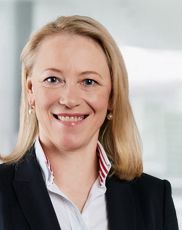 Law studies in Dresden. German Attorney-at-Law since 1998. Until 2000 lawyer in a Berlin business law firm. Until 2004 lawyer in the IT/IP Department of the Hamburg office of a business law firm with worldwide activities. Since 2004 with SNB; since 2007 partner.
Corinna Rindfleisch is in charge of information technology and industrial property rights (IT/IP) within the Corporate practice for the German offices of SNB.

In IT law the focal areas of her activities include the drafting and negotiation of contracts, legal support for IT projects across all project and escalation stages and advice on legal certainty in new media appearances. Her counselling activities on industrial property rights include the securing of property rights, the drafting and negotiation of licence agreements and the management of property right portfolios. Corinna Rindfleisch advises mid-sized companies from the IT industry, agencies and manufacturers of branded products.

The focal areas of Corinna Rindfleisch also include data privacy law and information security. She acts in these areas as a lecturer for different seminar providers. For the Hamburg Chamber of Commerce she regularly gives lectures on legal pitfalls in online trade.

Corinna Rindfleisch is engaged in Hamburg@work and works for the regional specialist commission for information and communication technology of the Wirtschaftsrat Deutschland (German Economic Council).
---
SECRETARIAT: Frau Fiegen
Telephone +49 (0)40 - 36 97 96-32 / Telefax +49 (0)40 - 36 20 88 / Email c.rindfleisch@snb-law.de
ADDRESS: Chilehaus / Entrance C / Burchardstraße 13 / 20095 Hamburg

---
ADVISORY FIELDS: Corporate, Data Privacy Law, Commercial and Civil Law, IP (Industrial Property Rights), IT
---
FOCAL ACTIVITIES: Information technology law, data privacy and information security, drafting of standard terms and conditions and contracts, trademark law, copyright law, competition law

German (mother tongue), English
GRUR - Deutsche Vereinigung für Gewerblichen Rechtsschutz und Urheberrecht e.V.
Förderkreis Multimedia im Netzwerk Hamburg@work
Hamburger Datenschutzgesellschaft
DNJV – Deutsch-Nordische Juristenvereinigung