JUSTYNA LIDIA NIWINSKI
German Attorney-at-Law, Senior Associate, Specialist Lawyer for Banking and Capital Market Law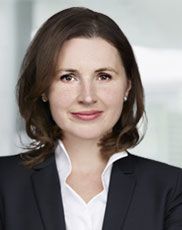 2004: Law studies at the Leibniz University Hannover
2010: Legal clerkship in Hannover
2011: Supplementary studies at the University for Administrative Sciences in Speyer – focal areas: dispute settlement and mediation
Mrs Niwinski worked from 2014 onwards as a lawyer in a law firm in Hannover specialising in banking and capital market law before she changed in 2015 as in-house lawyer to the legal department of a supraregional credit institution.
Since 2017 Mrs Niwinski has been a German Attorney-at-Law with SNB in Hamburg, since 2018 specialist lawyer for banking and capital market law. She works for banks, financial service providers and companies in all areas of business law, in particular in the field of banking and capital market law.
---
SECRETARIAT: Frau Sanmann
Telephone +49 (0)40 - 36 97 96-36 / Telefax +49 (0)40 - 36 20 88 / Email j.niwinski@snb-law.de
ADDRESS: Chilehaus / Entrance C / Burchardstraße 13 / 20095 Hamburg

---
ADVISORY FIELDS: Banking

---
FOCAL ACTIVITIES: Banking and capital market law, credit collateralisation, insolvency law, conduct of legal proceedings and negotiations

---
German (mother tongue), Polish, English, French
Arbeitsgemeinschaft Bank- und Kapitalmarktrecht im DAV
Hamburgischer Anwaltsverein e.V.